Now Open Year Round
Booking for 2024
Our lovely RV campground is nestled close to the valley floor with the Sangre de Cristo Mountains to the West and the Wet Mountains to the East. Due to our beautiful and unique location, the internet is at times unreliable. If you plan to work from your RV or stream, please come prepared to enjoy the scenery and use your own Wi-Fi signal or hotspot service.
Grape Creek RV and Campground is a place where you can come to explore the mountains and surrounding area, take day trips or just sit back and relax. It is not a full-time residence park. A maximum stay is six months. At this time, we are unable to accommodate tiny homes, refurbished buses/skoolies, or RVs older than 15 years, and may require a photo.
April, May, September-March: (Low Season)
June- August: (High Season)
Come enjoy a night, a week or a month in one of our nice RV sites. The nightly fee includes two adults, two children and/or two pets per site. If more, there will be a fee added on a per night basis. Cabins are nightly only throughout the year, and although we are a pet-friendly park, pets are not permitted in the cabins.
November-March: (Low Season)
Due to reduced staffing during the winter months, all RV sites have a minimum of a month's stay as well as a maximum of two adults, two children, and/or two pets.
We welcome you
for a night, week, or month
Inquire Now | 719-783-2588 | grapecreekrv@gmail.com
Office Hours are 9 a.m.-5 p.m., April through October

Starting at $62.58/night (tax included) with Good Sam Membership
If not a member, please click on the enrollment badge and sign up now!
Beautiful views of the Sangre de Cristo Mountains and Wet Mountain Valley
Colorado's first certified International Dark Sky communities
Wide, roomy, landscaped, full hookup, pull through RV sites; cabins and tents
Clean restrooms, well-equipped Clubhouse, laundry, and more amenities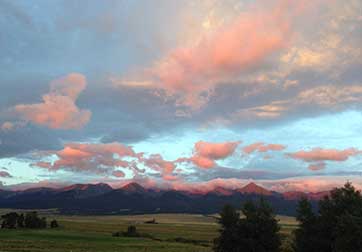 Travel safe and we'll see you soon!